Week 4 Day 18
Distill Day 1
We left the beautiful Hilton hotel on a bus bound for Treasure Island which is just off the Bay Bridge. We had a great view from the bus of the Golden Gate bridge and the bay below. We arrived at The Winery, where Distill was held, to an amazing spread of breakfast treats and hand poured coffee.
We finally met our mentor Andre Arko and he came bearing gifts in the form of bright blue Bundler t-shirts!
We used the Twitter hashtag #distill13 to post about the adventures of the day. Real-time tweets were posted on the screen in the main room for everyone to see.
Keynote: Nolan and Brent Bushnell
The keynote address was given by the founder of Atari and Chucky Cheese, Nolan Bushnell, and his son Brent Bushnell who runs Two Bit Circus in Los Angeles which is a group that helps children learn programming through the making of amusements. They were vibrant, inspiring speakers concentrating on pushing yourself to create and complete projects. Jen had the pleasure of meeting with them at lunch. She had previously met Brent Bushnell in Los Angeles at his amazing workspace in the Brewery.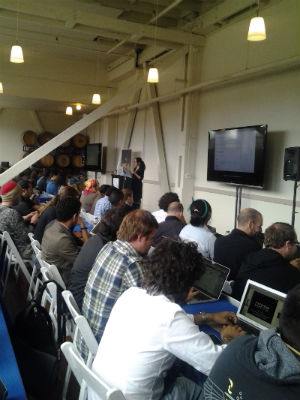 Realigning & Refactoring UI - Jina Bolton
Product Designer at Do // Slides
Jina talked about her favorite CSS tools to use in web development. She impressed upon the crowd to not refactor everything all at once, but "do refactor going forward." She had a light, friendly style of speaking that made her easy to listen to.
Connascence Examined - Jim Weirich
Chief Scientist at @neo_innovation, Ruby Enthusiast, Clojure dabbler onestepback.org // Slides
Jim defined connascence between relationships between different Name, Type, Meaning, Position, Timing, and Execution. In the second part, he talked about using Ruby to control Drones and showed video of it. Jen spoke with Jim Weirich and Ron Evans at lunch about drones, Kids Ruby, and music. Jim played a few songs on his ukulele.
Notes: luhn_check, supervenience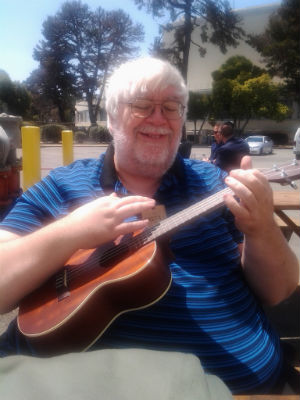 Lunch and Lawn Games
We had an amazing picnic lunch with the backdrop of San Francisco, Engine Yard's Panda mascot and lawn games.
Keynote: James Whelton
Co-Founder of CoderDojo
He gave an inspiring talk about why he started CoderDojo. He wanted to start a program for kids that he wished existed when he started learning to program. His program started in Ireland and has spread to include Dojo's all over the world. Later in the day, James gave Joyce a pep talk to feel less nervous about the lightning talk.
History of Women in Programming - Elise Worthy & Jessica Lynn Suttles
Elise Worthy - Founder of Brandworthy
Jessica Suttles - Software Engineer of G5 // Slides
Jessica and Elise gave their last presentation of this talk. Since we saw it at the LA Ruby Monthly Meetup, they've added more information and slides and really had their talk down to a science. Everyone was intrigued by the importance of women's contribution to programming that they pointed out.
Lightning Talks
8 of us were selected for the lightning talk. The other lightning speakers were Brenton Cheng, Jon Hyman, Dave Cadwallader, Kevin Stevens, Denis Ivanov, and Kyle Henderson. Then, Jim Weirich played a great song on his ukulele about God writing in Lisp. Giving the lightning talk to about 200 people was a great milestone. We talked about what Rails Girls does and the transition to Summer of Code, what we have learned so far, our plans for the future, and where to follow our progress.
Pre-Moonshine
We had dinner with everyone from Team Bundler and friends.
Moonshine
Moonshine was the kick-off party at the Old Mint in SF. We took fun pictures with costumes, socialized, and wandered around taking in the history of coin making and San Francisco. There was a candy room, vaults, projections, a DJ, and plenty of swag.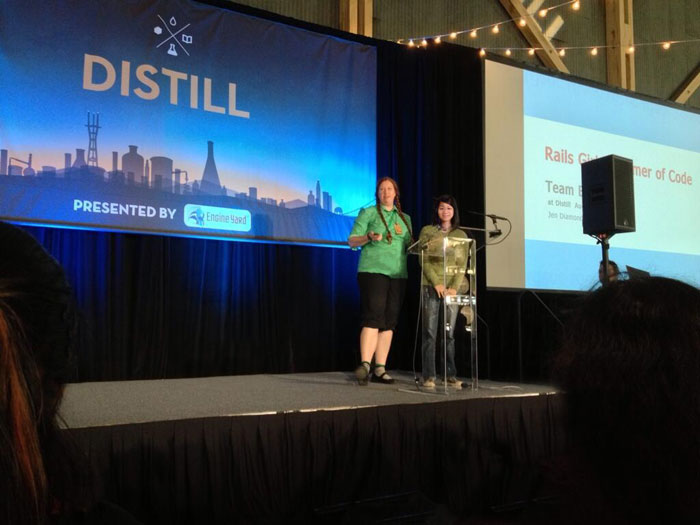 Jen Diamond and Joyce Hsu giving their Ligthning talk about Rails Girls Summer of Code at the Distill Conference in San Francisco.